Tuna Pasta Salad
Serves 4 person
| | |
| --- | --- |
| Ingredient | Quantity |
| Alce Nero organic penne | 250g |
| Ayam Brand™ tuna light flakes in oil | 280g |
| Ayam Brand™ whole kernal corn | 100g |
| Carrot, cut into strips | 50g |
| Cucumber, cut into chunks | 100g |
| Red cabbage, shredded | 50g |
| Onion, shredded | 80g |
| Mint leaves | 5g |
| Dressing | |
| Alce Nero extra virgin olive oil | 90ml |
| Alce Nero apple cider vinegar | 30ml |
| Garlic, chopped | 1 clove |
| Salt, pepper, garlic powder | To taste |
Here's the ingredients you are using: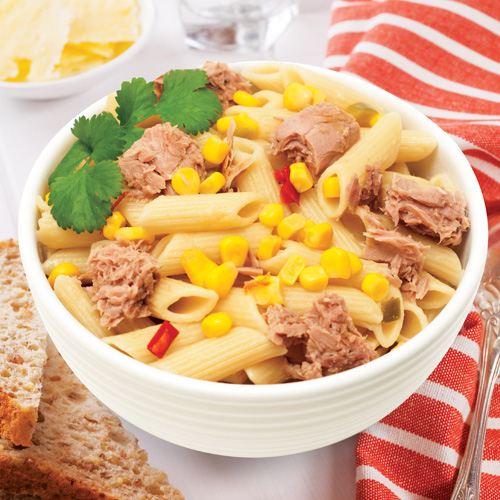 Dressing:
Whisk oil, vinegar, garlic, together well then season to taste with salt and pepper.
Pasta:
Bring a large pan of lightly salted water to the boil over a medium heat. Add the pasta and cook about 10-12 minutes.
Drain thoroughly. Transfer to a bowl and mix in the dressing.
Combined all ingredients in salad bowl. Check the seasoning adding more salt and pepper if necessary.
Arrange the pasta mixture in a large serving bowl, garnish and serve.