Tomato Penne
Serves 3 person
| | |
| --- | --- |
| Ingredient | Quantity |
| Alce Nero organic penne | 200g |
| Alce Nero organic tomato sauce with chilli | 350g |
| Alce Nero organic extra virgin olive oil | 3 tbsp |
| Sausage, sliced | 150g |
| Medium carrot, sliced | 1 |
| Ayam Brand button mushroom, sliced | 125g |
| Garlic, chopped | 1 tbsp |
| Chicken stock | 120ml |
| Sugar | 2 tbsp |
| Bay leaves | 2 pcs |
| Salt and pepper | |
Here's the ingredients you are using: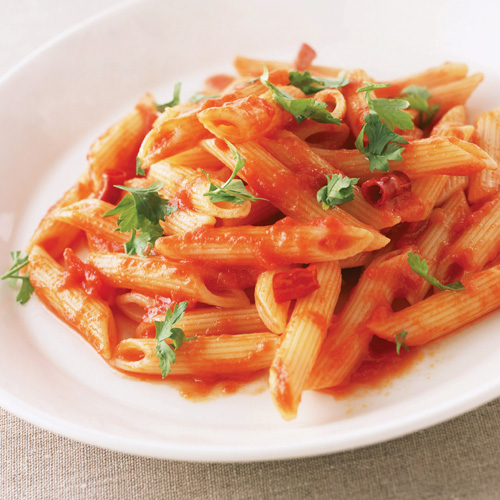 Put the pasta in a pot of water. Add in oil and salt. Bring the pasta to boil over high heat, then turn to low heat simmer for 12-14 minutes, drain.
Meanwhile, heat the oil in a medium saucepan over medium heat until hot. Add the garlic to the pan and cook, stirring, until golden. Add the carrots and mushrooms in and cook until the mushroom smell comes out.
Add the sliced sausages and bay leaves, cook till the sausage is slightly soft. Add the tomato sauce, chicken stock and sugar, cook over low heat for 2 minutes. Put the sauce aside after it had boiled. Place the cooked pasta onto serving plates. Pour the sauce over the pasta.