Tomato Pasta with Plenty of Sardines
Serves 2 person
| | |
| --- | --- |
| Ingredient | Quantity |
| Ibaraki Tomato Sauce boiled 155g | 1 can |
| Organic Extra Virgin Olive Oil Dolce 250ml | 1 tablespoon |
| Garlic (choppped) | 1 teaspoon |
| Tomatoes (square cut) | 2 pieces |
| Water | 150cc |
| Sunen Resort Suzura small grain 500g | 1 teaspoon |
| Sugar | 1 teaspoon |
| Organic spaghetti 350g | 160g |
| Black pepper | Reasonable amount |
| Parsley | Reasonable amount |
| Powdered cheese | Reasonable amount |
| Lemon | Reasonable amount |
Here's the ingredients you are using: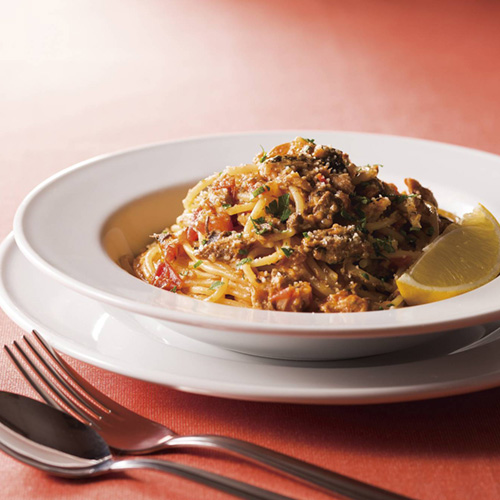 Heat olive oil in frying pan and fry garlic. If scent appears, add tomato and stir fry tomato until tomato peel off.
Add ayumu sardines tomato sauce simmer together with tomato sauce and fry it with loosening. Add water, salt and sugar, cook well until the tomatoes collapse, and make tomato sauce.
Add boiled spaghetti and leave the sauce whole.
Serve in the vessel, scrub black pepper, parsley, powdered cheese from above and squeeze lemon.