Tofu with Five Spices Honey Glaze
Serves 2 person
| | |
| --- | --- |
| Ingredient | Quantity |
| Semi-soft tofu | 1 block |
| Corn flour | for dusting |
| Sauce | |
| Cooking oil | 1 tbsp |
| Garlic, chopped | 1 clove |
| Star anise | 1 |
| Chinese five-spice powder | 1/2 tbsp |
| Alce Nero organic acacia honey | 1 tbsp |
| Light soy sauce | 1 tbsp |
| Chicken stock | 100ml |
| Potato starch, thickening | 1 tbsp |
| Garnishing | |
| Shallot crisps | |
| Spring onion/coriander/thai basil, chopped | |
Here's the ingredients you are using: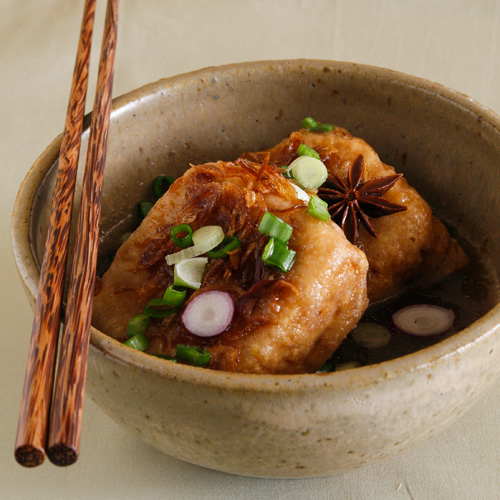 Coat the tofu with corn flour and deep fry in oil over medium heat until golden in colour. Remove and set aside.
To prepare sauce: Heat oil in a wok or saucepan and saute the garlic until aromatic and add the star anise. Combine the remaining sauce ingredients (exept potato starch) and mix well, seasoning to taste with the soy sauce, honey and pepper.
Tip into the wok and simmer for about 5 minutes. Mix the potato starch with a little water to form a solution and add to the sauce, bring to boil and turn off the heat.
Pour the sauce over the beancurd and garnish with shallot crisps and spring onions.