Sweet & Sour Mushroom
Serves 4 person
| | |
| --- | --- |
| Ingredient | Quantity |
| Shemiji mushroom (cut root) | 2 pkt |
| Onion, chopped | 1/4 cup |
| Garlic, chopped | 1 tbsp |
| Alce Nero Organic Pasta Sauce with Basil | 2 tbsp |
| Alce Nero Organic Apple Cider Vinegar | 1 1/2 tbsp |
| Sugar | 2 tbsp |
| Water | 1/2 cup |
| Salt & Pepper | To Taste |
| Parsley | To Taste |
| Alce Nero Organic Extra Virgin Olive Oil | 3 tbsp |
| BATTER | |
| Flour | 1/2 cup |
| Baking powder | 1 tsp |
| Rice flour | 3 tbsp |
| Corn flour | 2 tbsp |
| Water | 3/4 cup |
| Oil | 1 tbsp |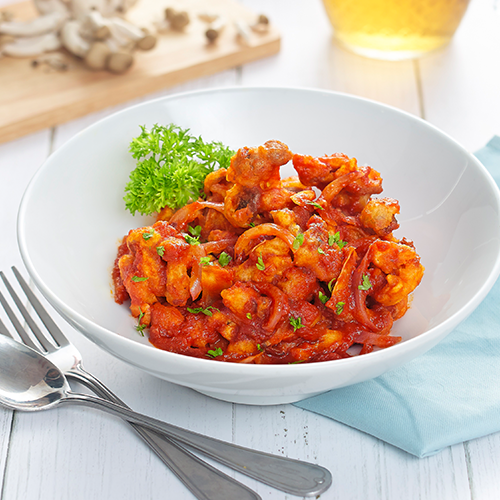 Preparation
Mix all batter ingredients with a whisk until smooth.
Heat oil for deep frying. Dip shemiji mush¬room into batter and deep fry in hot oil till light brown.
Heat extra virgin olive oil in wok, saute onion till gragrant, add in garlic and continue to fry.
Pour in pasta sauce, apple cider vinegar and water. Bring to a simmer. Season with sugar, salt & pepper.
Stir in deep fried mushroom and mix well. Garnish with parsley and serve hot.