Spicy Shrimp Spaghetti
Serves 3 person
| | |
| --- | --- |
| Ingredient | Quantity |
| Alce Nero spaghetti | 320g |
| Alce Nero organic extra virgin olive oil | 4 tbsp |
| Chopped garlic | 2 tbsp |
| Chopped onion | 2 tbsp |
| Cooked shrimp | 200g |
| Chilli padi, sliced | 2 |
| Red chilli | 1 |
| Basil, cut into stripes | 1 tbsp |
| Chicken stock/water | 50ml |
| Salt, pepper, cajun | |
Here's the ingredients you are using: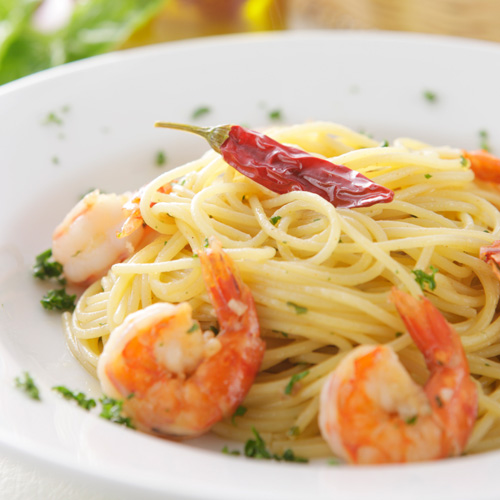 Put the spaghetti in a pot of water. Add in oil and salt. Bring the spaghetti to boil over high heat, then turn to low heat simmer for 10-12 minutes. Drain and set aside.
Heat the oil in a medium saucepan over medium heat until hot. Add in the chopped garlic, cook, stirring until golden brown. Add sliced chilli padi and the prawns and stir fry until they are slightly cooked.
Add in the stock/water, toss in the spaghetti and stir evenly. Season with the salt and black pepper to taste.