Spaghettini Sardines
Serves 4 person
| | |
| --- | --- |
| Ingredient | Quantity |
| Alce Nero organic spaghettini | 150g |
| Ayam Brand™ Sardines in extra virgin olive oil and chilli | 2 pieces |
| Alce Nero organic extra virgin olive oil | 1 tbsp |
| Garlic, chopped | 2 cloves |
| Cabbage, shredded | 1 |
| Lime juice | 1 tbsp |
| Seasoning | |
| Seasoning sauce | 2 tbsp |
| Pepper | |
| Sugar | |
| Chillies, optional | |
| Garnishing | |
| Fresh coriander leaves, chopped | 1 tbsp |
| Spring onion, chopped | 1 |
| Crispy garlic, optional | 1 tsp |
Here's the ingredients you are using: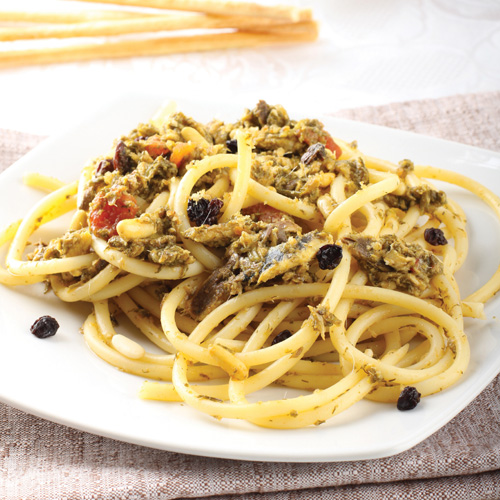 Put sardines in microwave for 1 minute. Bring water to a boil in a big pot, add in 1 tablespoon salt and the pasta, cook until al dente.
Drain. Heat olive oil in a pan.
Add in strain spaghettini, slightly stir fry.
Season with seasoning sauce, pepper, sugar and chilli. Transfer spaghettini to a plate. Arrange sardine on the spaghettini. Top with crispy garlic, coriander leaves and spring onion.