Spaghetti Pad Thai
Serves 2 person
| | |
| --- | --- |
| Ingredient | Quantity |
| Alce Nero Spaghetti | 250g |
| Alce Nero Extra Virgin Olive Oil | |
| Garlic, chopped | 3 cloves |
| Chicken meat (sliced and marinated with 1 tsp corn flour, fish sauce, sugar and chilli flakes) | 300g |
| Prawns (marinated with 1 tsp sugar) | 100g |
| Tamarind paste | 50g |
| Water | 100ml |
| Chilli padi, sliced | 4 stalks |
| Brown sugar | 2 tbsp |
| Chicken stock granules | 1 tsp |
| Fish sauce | 2-3 tbsp |
| Beansprout | 150g |
| Kuchai chives, cut into 2cm lengths | 50g |
Here's the ingredients you are using: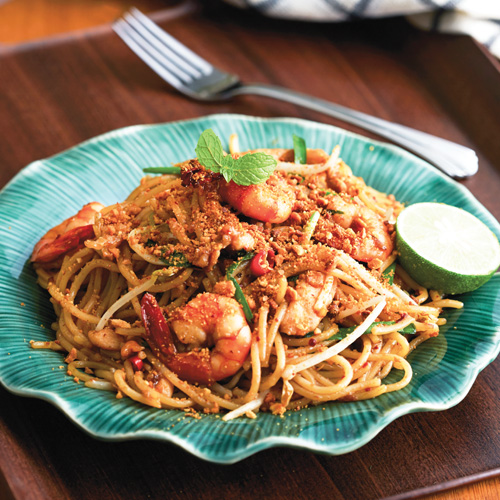 Heat Alce Nero extra virgin olive oil in a wok, saute the chopped garlic until fragrant adding the marinated chicken meat and prawns.
Add the tamarind juice, brown sugar, chicken stock granules, chilli padi amd fish sauce.
Return the cooked Alce Nero spaghetti into the wok, adding lastly the chives and beansprouts. Adjust salt & sugar to taste, turning off heat.
Top with garnishing ingredients, squeeze in the lime juice before serving.