Power Lunch Bowl
Serves 1 person
| | |
| --- | --- |
| Ingredient | Quantity |
| Alce Nero Fusilli | 2 servings |
| Alce Nero Zucchini Pesto | 3 tbsp |
| Brocolli, cut to single florets | 1 medium size |
| Purple cabbage, chopped | 1/4 head |
| White button mushrooms, quatered | 100g |
| Carrots, sliced | 1 medium |
| Garlic, minced | 1 clove |
| Alce Nero extra Virgin Olive Oil | |
| Dried Oregano | 1 dash |
| Fresh basil leaves | |
| Salt | |
| Pepper | |
Here's the ingredients you are using: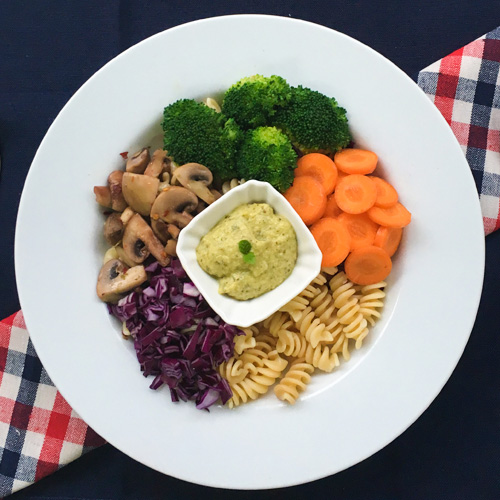 Cook the pasta according to directions on pack.
In a pot of boiling water, blanch the brocolli and carrots for 2 minutes. Remove and rinse in cold water. Set aside.
Heat some olive oil in a pan. Add the minced garlic releases its fragrance, add the button mushrooms and cook till softened and brown. Season with oregano, salt and pepper. Set aside.
In a big bowl, add the cooked pasta and toss well in the zucchini pesto. Add the rest of the ingredients, finishing off with a drizzle of olive oil and some torn up basil leaves.