Penne with Chicken Mushrooms
Serves 4 person
| | |
| --- | --- |
| Ingredient | Quantity |
| Alce Nero organic penne | 500g |
| Mushrooms | 28g |
| Boneless skinless chicken, breast trimmed of fat and cut 1 inch long by 1/4 inch thick strips | 230g |
| Unsalted butter | 2 tbsp |
| Salt | |
| Heavy cream | 1/2 cup |
| Grated parmesan cheese | 1/4 cup |
Here's the ingredients you are using: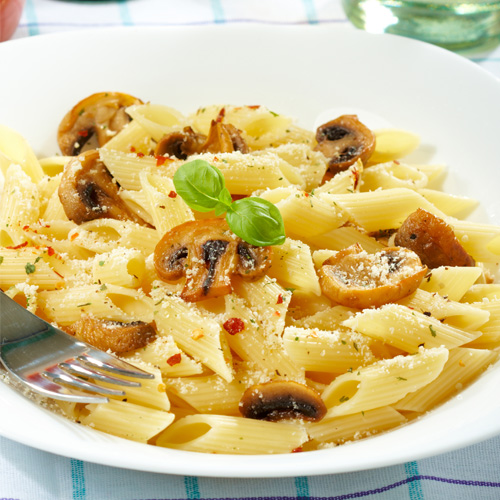 Bring 3.8L water to a boil in a big pot, add in 1 tablespoon salt and the pasta, cook until al dente.
Meanwhile, in a large pan, melt the butter over medium heat, add in the mushrooms, cook for 1 minute.
Season the chicken with salt and pepper to taste. Increase heat to med-high and add in the chicken, stir/saute until the chicken is opaque, 4 minutes.
Add in the mushroom soaking liquid and cream, cook until the sauce has thickened slightly, 2-3 minutes.
Drain the pasta and return it to the cooking pot, toss with the sauce and cheese.
Season with salt and pepper to taste, serve immediately.