Pasta Bellini
Serves 3 person
| | |
| --- | --- |
| Ingredient | Quantity |
| Alce Nero organic pasta | 250g |
| Alce Nero organic tomato sauce with vegetable | 350g |
| Alce Nero organic extra virgin olive oil | 4 tbsp |
| Garlic, coarsely chopped | 1 clove |
| Salt and black pepper, to taste | |
| Fresh basil leaves, half crumbled | 1 handful |
| Ricotta cheese, half grated and half crumbled | |
Here's the ingredients you are using: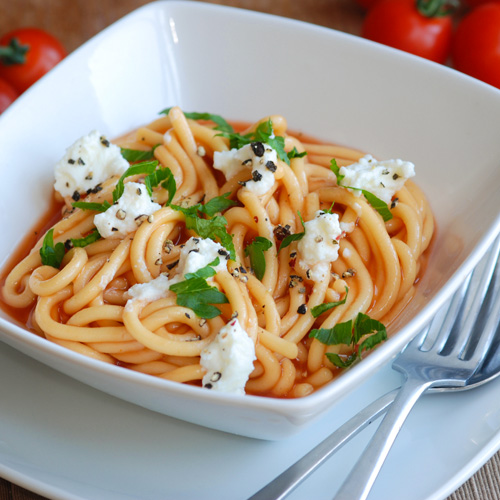 Heat the oil in a medium saucepan, add the garlic and cook over low heat until golden.
Add the tomato sauce with the salt and pepper, cook for 10 minutes. Meahwhile, cook the pasta, drain and set aside.
Pour the sauce over the pasta, then add the basil and the grated ricotta cheese and toss.
Serve immediately, with the crumbled ricotta cheese sprinkled on top.