Panna Cotta with Organic Blueberry Jam
Serves 6 persons
| | |
| --- | --- |
| Ingredient | Quantity |
| Alce Nero Organic Blueberry Jam | 135g |
| Skimmed Milk | 80g |
| Gelatine | 4 tsp |
| Heavy Cream/Whipping Cream | 500g |
| Sugar | 120g |
| Vanilla Extract | 1.5 tsp |
| Water | 135ml |
Here's the ingredients you are using: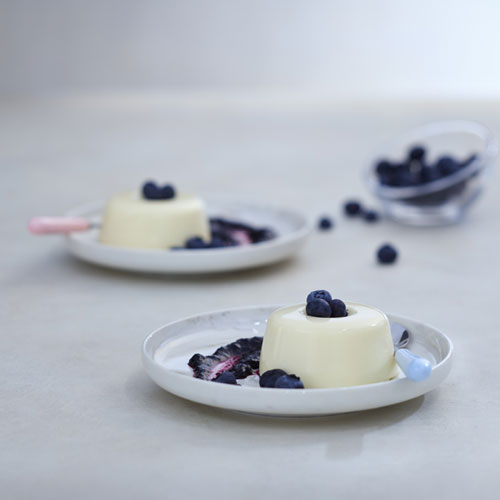 Syrup
Mix Organic Blueberry Jam Alce Nero with water and sugar.
Cook into a pan and let it thick.
Preparation
Pour milk into a small bowl and stir in the gelatin powder completely. Set aside.
Stir whipping cream and remaining sugar in saucepan, and set over medium heat.
Bring to full boil.
Pour the gelatine/milk mix into the pan. Stir until completely dissolved.
Cook for 1-2 minutes, stirring it constantly.
Remove from heat. Stir in vanilla(optional) and pour it into serving containers.
Cool at ambient temperature, then cover and refrigerate for at least 4 hours.
Serve with topping syrup. You can also add the syrup while pouring the cream into the serving containers, creating a marble effect.