Jammy Stuffed French Toast
Serves 2 person
| | |
| --- | --- |
| Ingredient | Quantity |
| Thick bread | 4 slices |
| Cream cheese, softened | 100g |
| Alce Nero Strawberry Jam | 2 tbsp |
| Lemon zest | 1 tsp |
| Strawberries, chopped | 4 |
| Fresh milk | 1/2 cup |
| Melted butter | 2 tbsp |
| Vanilla extract | 1 tsp |
| Sugar | 2 tsp |
| Ground cinnamon | 1 tsp |
| Eggs, beaten | 3 |
Here's the ingredients you are using: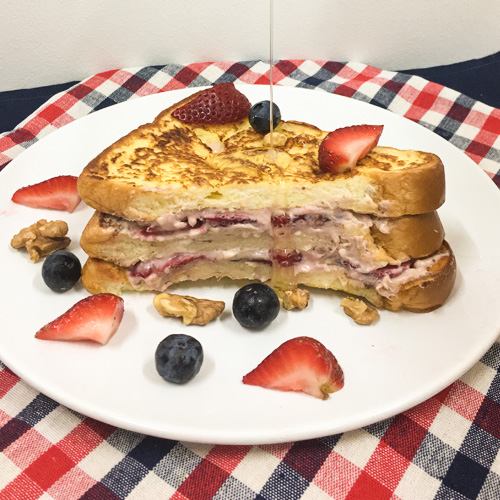 In a bowl, combine the cream cheese, jam, chopped strawberries, and lemon zest together. Set aside.
In a shallow dish, whisk together the eggs, milk, vanilla extract, sugar and cinnamon.
In a large skillet over medium, heat enough butter to coat the pan. Be careful not to overheat the butter as it may burn.
Place a slice of bread into the milk and egg mixture for 10 seconds each side. Once coated, place them into the skillet. Cook each slice until golden brown, about 4-5 minutes a side.
Repeat the process with the remaining bread.
Spread one slice of bread with cream cheese mixture to your desired thickness and top with another slice of bread. Garnish with more strawberries and a sprinkle of cinnamon. Serve warm!