Fried Spaghetti
Serves 3 person
| | |
| --- | --- |
| Ingredient | Quantity |
| Alce Nero spaghetti | 320g |
| Bell peppers | 2 |
| Asparagus | 2 |
| Long green onion | 1/2 |
| Chopped garlic | 1 tbsp |
| Soy sauce | 2 tsp |
| Alce Nero organic extra virgin olive oil | 1 tbsp |
| Sesame oil | 1 tsp |
| Butter | 1 tbsp |
| Fresh coriannder | |
| Salt & pepper | |
Here's the ingredients you are using: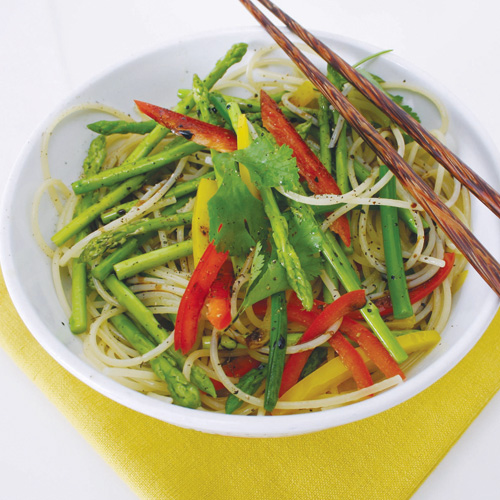 Cut vegetables (pepperoni, asparagus, long green onion) into chuncky slices.
Put olive oil, butter and garlic in the saucepan and add chopped vegetables then fry them.
Bring the pasta to boil over high heat, then turn to low heat simmer for 8 minutes. Drain and reserve.
Put the cooked spaghetti and vegetables into the saucepan, add soya sauce and sesame oil, and fry.
Add salt and pepper to taste. Garnish with a fresh coriander and serve.