Citrus Spaghetti Noddle Salad
Serves 2 person
| | |
| --- | --- |
| Ingredient | Quantity |
| Alce Nero Spaghetti | 2 servings |
| Orange | 1 large |
| Edamame | Handful |
| Japanese cucumber | 1 |
| Ayam Brand Sardines (Black Olives & Capers) | 1 can |
| Dijon mustard | 2 tbsp |
| Alce Nero Acacia Honey | 1 tbsp |
| Alce Nero Apple Cider Vinegar | 1 tbsp |
| Orange juice | 1 tbsp |
| Alce Nero Extra Virgin Olive Oil | 1 tbsp |
| Shallot, minced | 1 small |
| Mint leaves | Handful |
Here's the ingredients you are using: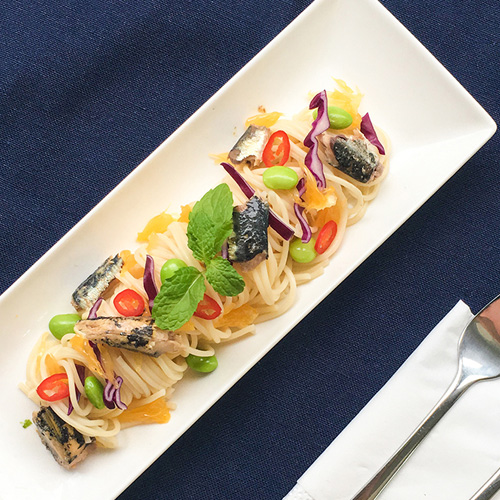 Cook the pasta according to directions on pack.
Prepare the orange into pith-free segments (supremes). It's lengthy, but easy! First, slice off the top and bottom ends of the orange, just enough to slightly expose the flesh. Then, lay the fruit down on one of the cut surfaces. Using a sharp knife, carefully slice off the rest of the skin, just enough to expose the flesh. Once the skin is removed, trim off any remaining bits of pith stuck to the flesh. Hold the fruit in one hand and slice the knife along the thin strips of membrane which separate each segment, cutting through to the core. Move along to the other side of the segment and cut along the inside of the membrane again. Release the segment and repeat, working around the fruit. Save the core which remains - this will give you the juice needed for the dressing! Once you've got your segments, cut them into thirds and set aside.
Next, prepare the cucumber moons. Carefully slice the cucumber lengthwise, then slice it into 1/2 inch thick 'moons'. Set aside.
Drain the saridnes and break them into chunks. Set aside.
In a small bowl, mix all the ingredients for the dressing.
In a large bowl, toss the cooked pasta along with the edamame, orange segments, cucumber moons, sliced cabbage, and sardine chunks. Pour over the dressing and mix well.
Enjoy the zesty noodles packed with colourful vegetables and calcium-rich sardines!