Beef Piccatina with Balsamic and Parma Ham
Serves 6 persons
| | |
| --- | --- |
| Ingredient | Quantity |
| Alce Nero Balsamic Vinegar | Reasonable amount |
| Alce Nero Organic Acacia Honey | Reasonable amount |
| Tenderloin veal (or beef) | 800g |
| Unsalted Butter | 100g |
| Parma Ham, julienned (optional) | 60-100g |
| Italian Parsley, chopped | 25g |
| Plain Flour | Reasonable amount |
| NOMU Salt | Reasonable amount |
| Pepper | Reasonable amount |
Here's the ingredients you are using: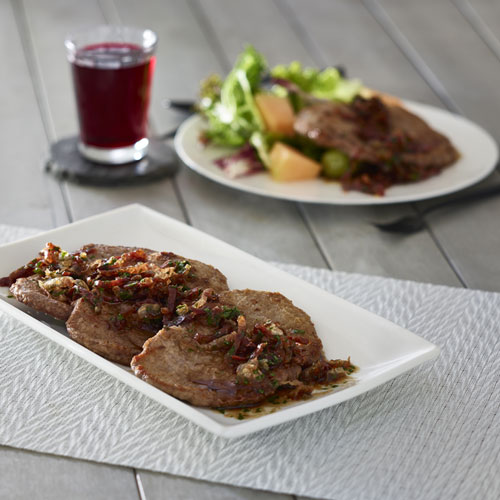 Marinate
Flatten the slices of veal slightly.
Add salt, pepper and flour.
Cooking
Heat 80g butter in a pan and brown the veal on both sides with a high flame.
Drain off the excess butter and place the veal on a hot serving dish.
Add the remaining butter to the frying pan and scrape off the cooking residue.
Add the julienne ham and cook it over a low flame for a few seconds and then add the honey, followed by balsamic vinegar.
Allow the sauce to simmer for a few moments and then pour it over the piccatina.
Sprinkle it with the chopped parsley and serve it hot.